PENGARUH RASA PERCAYA DIRI PESERTA DIDIK TERHADAP KEMAMPUAN PUBLIC SPEAKING
Abstract
Abstract: This study aims to be able to find out how much influence students' self-confidence has on Public Speaking abilities. This study used a quantitative method with a predetermined population and sample, namely all students in class VI, totaling 30 people. The sampling technique used is saturated sample technique. Methods of data collection using a questionnaire. The instrument test consists of a validity test and a reliability test. Data analysis in this study consisted of the Spearman correlation test, simple linear regression test, coefficient of determination test, F test, T test, calculating the average (mean), and calculating the standard deviation. Based on the results of the study, it was found that there was a positive and significant influence between students' self-confidence and public speaking ability, with a value of 60.8% with an R square coefficient of 0.608. In the T test stage, the value of tcount > ttable obtained a value of 6.588 > 2.048. And the F test value of Fcount > Ftable is obtained (43.397 > 4.20). With a significant value of 0.000 <0.05 which means that H0 is rejected and Ha is accepted. The conclusions from the study that it has a positive and significant influence on students' self-confidence on public speaking skills in class VI SD Negeri 65 Banda Aceh.
Keywords: Confidence, Public Speaking Ability.
Abstrak: Penelitian ini bertujuan untuk dapat mengetahui seberapa pengaruh rasa percaya diri peserta didik terhadap kemampuan Public Speaking. Penelitian ini menggunakan metode kuantitatif dengan populasi dan sampel yang telah ditentukkan yakni seluruh peserta didik kelas VI yang berjumlah 30 orang. Teknik pengambilan sampel yang digunakan yaitu teknik sampel jenuh. Metode pengumpulan data menggunakan kuesioner. Uji intrumen terdiri dari uji validitas dan uji reliabilitas. Analisis data pada penelitian ini yakni terdiri dari uji korelasi spearman, uji regresi linear sederhana, uji koefesien determinasi, uji F, uji T, menghitung rata-rata (mean), serta menghitung standar deviasi. Berdasarkan hasil penelitian, ditemukan adanya pengaruh positif dan signifikan antara rasa percaya diri peserta didik dengan kemampuan public speaking, dengan diperoleh nilai sebesar 60,8% dengan nilai koefesien R square sebesar 0,608. Dalam tahap uji T nilai thitung > ttabel diperoleh nilai 6,588 > 2,048. Dan uji F nilai Fhitung > Ftabel diperoleh (43,397 > 4,20). Dengan nilai signifikan 0,000 < 0,05 yang berarti bahwa H0 ditolak dan Ha diterima. Simpulan dari penelitian bahwa memiliki pengaruh positif dan signifikan rasa percaya diri peserta didik terhadap kemampuan public speaking di kelas VI SD Negeri 65 Banda Aceh.
Kata kunci: Rasa Percaya Diri, Kemampuan Public Speaking.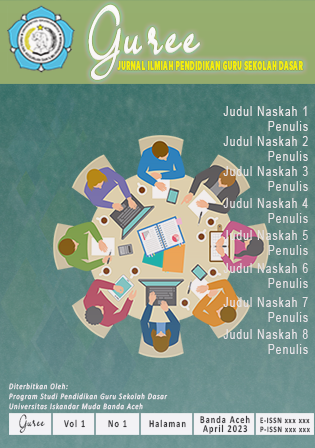 Authors who publish articles in Guree : Jurnal Ilmiah Pendidikan Guru Sekolah Dasar agree to the following terms: