Analisis Struktur Rumah Adat Tradisional Karo Desa Lingga Simpang Empat Kabupaten Karo Sumatera Utara
Abstract
Rumah adat karo (siwaluhjabu) memiliki umur ratusan tahun dan masih menjadi rumah adat kuat. Rumah adat Karo mempunyai aspek arsitektur yang unik yaitu bentuknya sangat megah pada kedua ujung atap terdapat tanduk kerbau disebut sebagai penangkal para masuknya roh-roh jahat dan atap yang agak lancip yang dipenuhi dengan ukiran dan dilapisi daun ijuk dan pengikat dinding berbentuk cecak/kadal. Rumah adat karo mempunyai prinsip kontruksi seismik, contohnya rumah adat di Desa Lingga Kecamatan Simpang Empat Secara teoritis sesuai dengan prinsip bangunan seismik, tetapi belum dianalisis secara rinci. Yang perlu dianalisis secara analitik adalah nilai frekuensi natural, periode getar, gaya geser dasar dan perpindahan struktur. Analisis rumah adat tradisional karo akibat gaya gempa yang dilakukan oleh perangkat lunak SAP2000 mengungkapkan periode getaran, frekuensi alami dari struktur adalah 0,22848 detik. Gaya geser dasar  yang dihasilkan oleh gaya seismic sebesar 52258.4203 kN. Displacement Rumah adat karo diambil dari titik tertinggi yaitu join 4 sebesar 5,6894 cm pada kombinasi 1.
References
Acacia, K., & Timonius, T. (n.d.). Sifat fisis mekanis kayu potensial nusa tenggara timur: kabesak (. 17–29.
Halim, E. A. (2020). Konservasi Bangunan Bersejarah Rumah "Siwaluh Jabu" Desa Lingga. Serat Rupa Journal of Design, 4(2), 135–145. https://doi.org/10.28932/srjd.v4i2.1433
Hutabalian, B. S. (2019). Studi Struktur Rumah Adat Tradisional Batak Toba terhadap Gaya Gempa. Jurnal Teknik Sipil USU.
Rinaldi, Z., & Purwantiasning, A. W. (2015). Suku Besemah Di Kota Pagaralam Sumatera Selatan. November, 1–10.
Sipahutar, R. H., Sucipto, T., Iswanto, A. H., Kehutanan, P. S., Kehutanan, F., Utara, U. S., Program, D., Kehutanan, S., Kehutanan, F., & Utara, U. S. (2014). Sifat Fisis dan Mekanis Kayu Karet ( Hevea brasiliensis MUELL Arg ) Bekas Sadapan dan Kayu Karet tanpa Sadapan ( The Physical and Mechanical Properties of Tapping and Untapping Rubber Wood ( Hevea brasiliensis MUELL Arg )) bagian.
Sudarwanto, B., & Murtomo, A. (2013). Studi Struktur dan Konstruksi Bangunan Tradisional Rumah ' Pencu ' di Kudus. Ikatan Peneliti Lingkungan Binaan Indonesia Studi, 2(1), 35–42.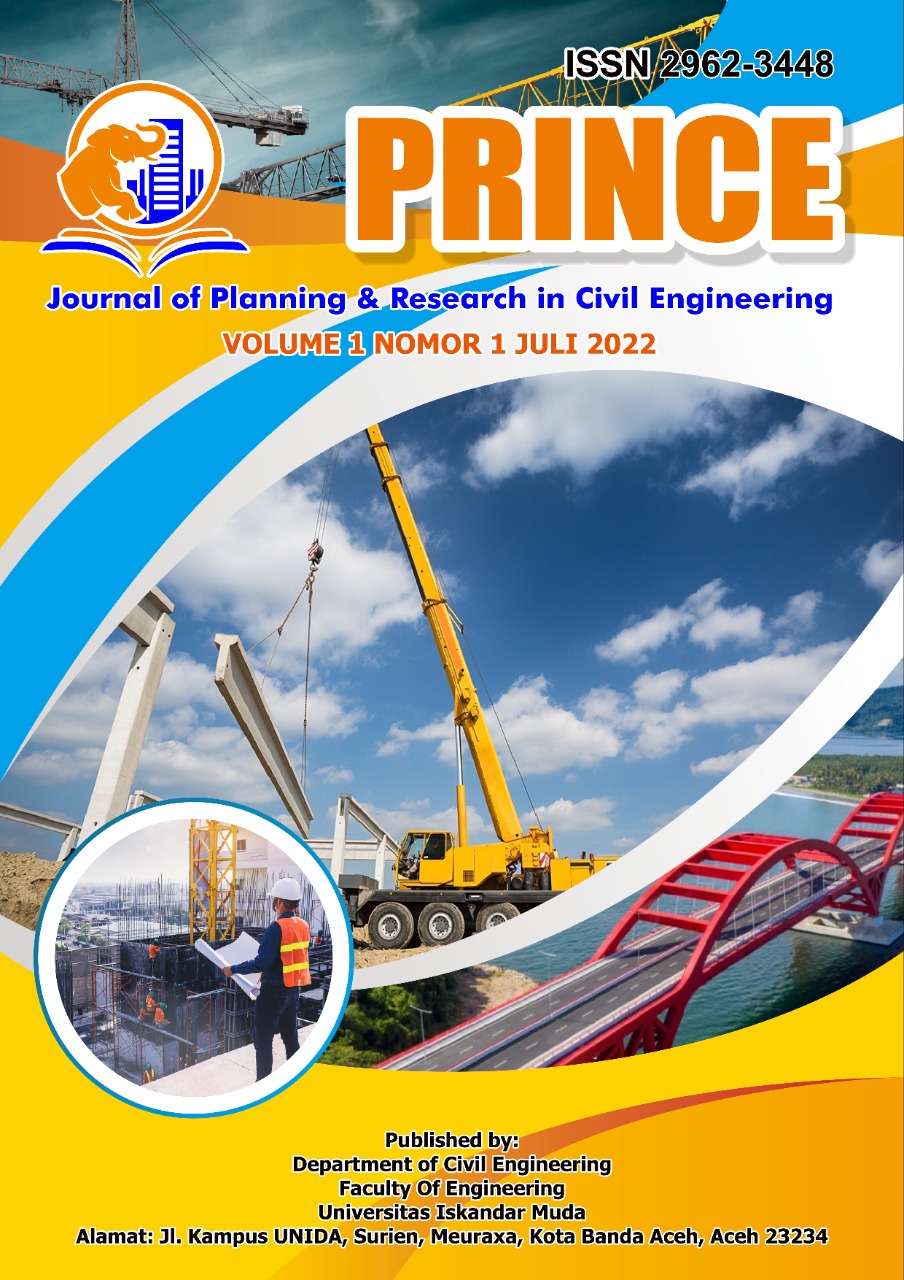 How to Cite
Zhefanya Bangun,. (2022). Analisis Struktur Rumah Adat Tradisional Karo Desa Lingga Simpang Empat Kabupaten Karo Sumatera Utara . PRINCE : Journal of Planning and Research in Civil Engineering, 1(1), 9-15. https://doi.org/10.55616/prince.v1i1.292
Copyright (c) 2022 PRINCE : Journal of Planning and Research in Civil Engineering
This work is licensed under a Creative Commons Attribution 4.0 International License.
Ciptaan disebarluaskan di bawah Lisensi Creative Commons Atribusi 4.0 Internasional.