Acehnese and English Subject-Predicate Concord: A Contrastive Analysis
Keywords:
Contrastive analysis, subject-verb concord, subject-verb agreement, EFL
Abstract
Contrastive analysis as a synchronic method in language analysis used in this study to show similarities and differences between languages or dialects in order to solve practical problems related to languages, such as language teaching and translation. Every language has its own rules, which is unique as well as common features. A language shares some the same rules to some extent which benefit English learners to better understand the rules of the target language by knowing the similarities between the language and their target language. This research deals with the descriptions and analyses on Subject-Predicate systems of English and Acehnese languages which shows several similarities and differences. The similar structure found in both language is subject and verb in both languages need an agreement depending on the subject of the sentence.  While the differences can be seen in the position of enclitic of both languages. In Acehnese, the clitics position be found within a verb or a noun. While in English, it appears only within a verb. The example sentences of the two languages have been compared with sufficient examples, making it clear where and how they are identical and different.
References
Alisyahbana, Sutan Takdir. 1983. Tatabahasa Baru Bahsa Indonesia. Jakarta: Dian Rakyat.
Alwasilah, A Chaedar. 1990. Linguistik Suatu Pengantar. Bandung: Angkasa Bandung.
Althur, Simin. Nd. Persesuaian Subjek-Verba Bahasa Biak dan Bahasa Ternate (Sebuah Kajian Deskriptif-Komparatif). Makalah. FKIP Universitas Cendrawasih.
Alwasilah, A. Chaedar. 1990. Linguistik: Suatu Pengantar. Bandung: Angkasa
Assi, runak Nashaat. Nd. A Comparative / Contrastive Stody of Subject-Verb Concord in Standard English and Standard Kurdish. Artikel. College of Education, Kirkuk University.
Asyik, A. G. 1987. "A Contextual Grammar of Acehnese Sentences". Disertasi The University of Michigan.
Azar, Betty Schrampfer. 1999. Understanding And Using English Grammar:3rd Edition. USA: Pearson Education.
Boskany, Saza Ahmed Fakhry. 2001. "A Contrastive Analysis of Agreement in Standard English and Kurdish". Tesis. College of Arts-Salahaddin, University Arbil
Brown, Douglas. 2007. Prinsip Pembelajaran dan Pengajaran Bahasa, Edisi. Kelima. Jakarta: Kedutaan Besar Amerika Serikat Jakarta.
Djunaidi, Abdul. 2004. PersesuaianDalam Bahasa Aceh. Bahasa dan Seni, No.2, hal 139-163.
Dubib, Dalal Al. 2013. "Error Analysis of Subject-Verb Agreement in the Writing of EFL Saudi Female Students: A Corpus-Based Study". Tesis. Saudi Arabia: Al-Imam Mohammad Ibn Saud Islaic University.
Durie, Mark. 1985. A Grammar of Acehnese On The Basis of A Dialect of North Aceh.
Fernandez, Inyo Yos. 1996. Persesuaian Subjek-Verba dalam Bahasa Mai Brat Dialek Ayamaru dan Lamaholot Dialek Ile Mandiri. Humoniora III, hal 41-46.
Hamzah. 2012. An Analysis of the Written Gramatical Errors Produced by Fresment Students in English Writing. Lingua Didaktika. Vol. 6. No. 1. Hal 17-25.
Henry, Abbie Potter. Nd. Subject-Verb Agreement: A Grammar Help Worksheet. Artikel.
Hidayati, Nurlatifah. 2005. "Persesuaian subjek-verba dalam Bahasa Inggris dan permasalahannya bagi pembelajar Bahasa Inggris: Studi kasus mahasiswa Jurusan Bahasa Inggris UAD". Tesis. Yogyakarta: Universitas Gadjah Mada.
James, Carl. 1990. Contrastive Analysis. Harlow, Essex: Longman.
Keraf, Gorys. 1984. Tata Bahasa Indonesia. Ende-Flores Nusa Indah
Kesuma, Tri Mastoyo Jati. 2007. Pengantar Metode Penelitian Bahasa. Yogyakarta: Carasvatibooks.
Kridalaksana, Harimurti. 2011. Kamus Linguistik Edisi Keempat. Jakarta: PT. Gramedia Pustaka Utama.
Lado, Robert. 1966. Linguistics Across Culture: Applied Linguisticsfor language Teachers. Cambridge: Cambridge University Press.
Lani, Razali Cut, dkk. 2016. Meurunoe Bahasa Acèh Keu Murid Sikula Dasar dan Madrasah Ibtidaiyah Glah 1. Banda Aceh: CV Boebon Raya.
__________________. Meurunoe Bahasa Acèh Keu Murid Sikula Dasar dan Madrasah Ibtidaiyah Glah 2. Banda Aceh: CV Boebon Raya.
__________________. Meurunoe Bahasa Acèh Keu Murid Sikula Dasar dan Madrasah Ibtidaiyah Glah 3. Banda Aceh: CV Boebon Raya.
__________________. Meurunoe Bahasa Acèh Keu Murid Sikula Dasar dan Madrasah Ibtidaiyah Glah 4. Banda Aceh: CV Boebon Raya.
Lashari, Mubarak Ali. 2013. Subject-Verb Agreement in Sindhi and English: A Comparative Study. Language in India. Vol. 13. No. 6. Hal. 473-495.
Lehman, Winfred. 1995. Historical Linguistics: An Introduction. London: Routledge.
Murcia, Marianne Celce et al. 1983. The Grammar Book: An ESL / EFL Teacher's Course Second Edition. Boston: Heinle ELT
Purwo, Bambang Kaswanti. Nd. Subjek-Predikat Dan Topik-Komen: Lika-Liku Perkembangannya. Makalah. Universitas Katolik Atma Jaya.
Quirk, Randolph et al. 1985. A Comprehensive Grammar of English Language. New York: Longman
Ramlan, M. 1981. Ilmu Bahasa Indonesia: Sintaksis. Yogyakarta: U. P. Karyono.
Rizka, B. (2017). THE LEXICAL PROCESS OF ACEHNESE BORROWING. Getsempena English Education Journal, 4(1), 17-26. https://doi.org/10.46244/geej.v4i1.719
Shami, Ibrahim ali A. 2013. University Students' Errors in Using Subject Verb Agreement in Writing. Makalah. Yaman: Hajjah University.
Soedibyo, Mooryati. 2004. Analisis Kontrastif – Kajian Penerjemahan Frasa nomina. Surakarta: Pustaka Cakra Surakarta.
Sudaryanto. 1993. Metode dan Aneka Teknik Analisis Bahasa: Pengantar Penelitian Wahana Kebudayaan secara Linguistik. Yogyakarta: Duta Wacana University Press.
Tarigan, Henry Guntur. 1992. Pengajaran Analisis Kontrastif Bahasa. Bandung: Angkasa.
Verhaar, J. W. M. Pengantar Linguistik Jilid I. Yogyakarta: Gadjah Mada University Press.
Wildan. 2010. Kaidah Bahasa Aceh. Banda Aceh: Geuci.
Wray, Alison & Aileen Bloomer. Projects In Linguistics: A Practical Guide To Researching Language. USA: Hodder Arnold.
Yadnya, Ida Bagus Putra. 2001. "Kesubjekan Dalam Bahasa Lamaholot Dialek Nusa Tandon". Tugas Akhir. Denpasar: Program S3 Bidang Studi linguistik Fakultas Sastra Universitas Udayana.
Zandvoort, R. W. 1996. A Hanbook of English Grammar. London: Longman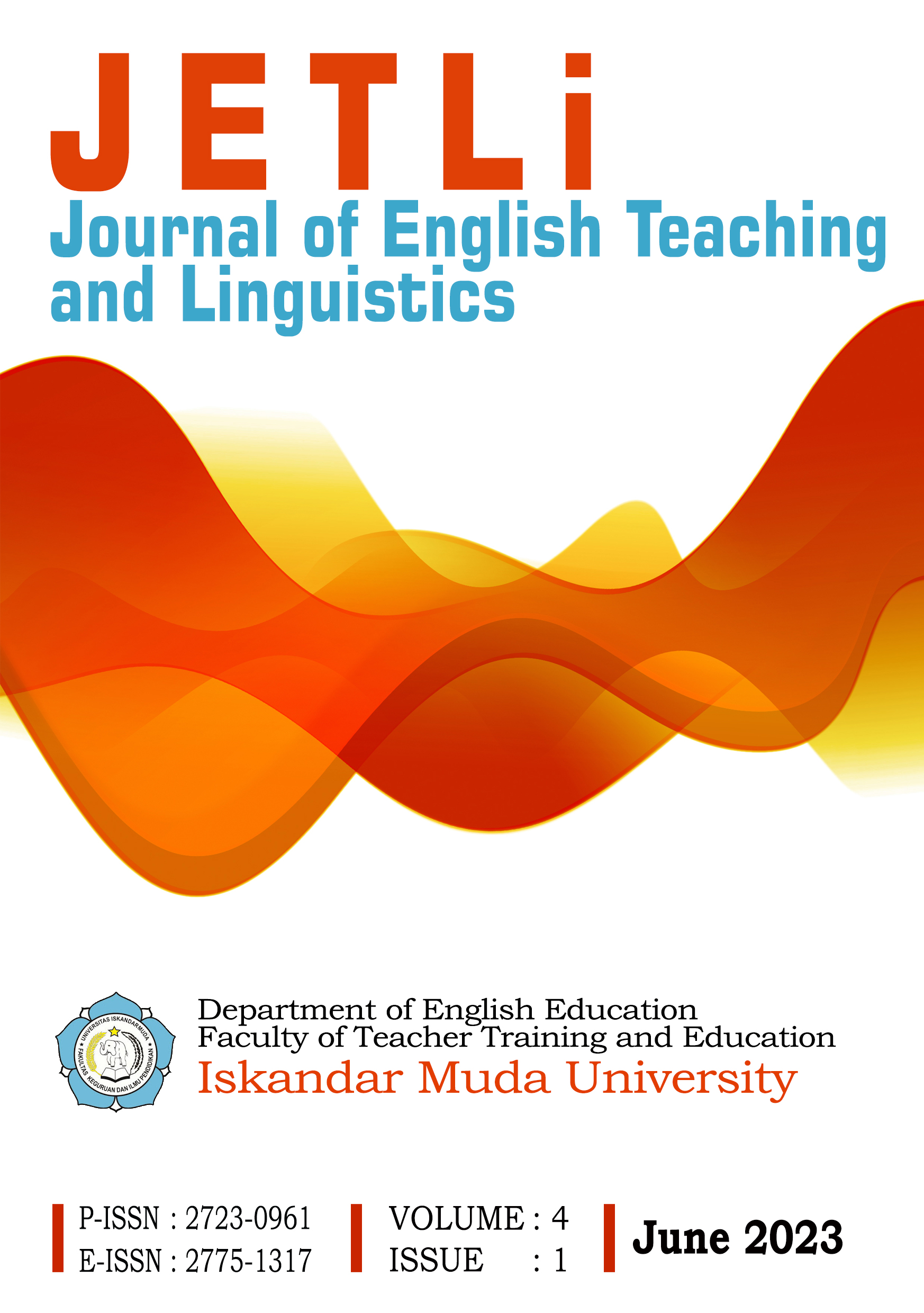 How to Cite
Ghina, I., & Helmi, R. (2023). Acehnese and English Subject-Predicate Concord: A Contrastive Analysis. Journal of English Teaching and Linguistics, 4(1), 57-64. https://doi.org/10.55616/jetli.v4i1.529
This work is licensed under a Creative Commons Attribution 4.0 International License.
Authors retain copyright and grant the journal right of first publication with the work simultaneously licensed under an Attribution 4.0 International (CC BY 4.0) that allows others to share — copy and redistribute the material in any medium or format and adapt — remix, transform, and build upon the material for any purpose, even commercially with an acknowledgment of the work's authorship and initial publication in this journal.