The Implementation of Problem Based Learning Models to Improve Understanding of Fantasy Story Texts
Keywords:
Applying, Problem Based Learning, Fantasy Story Text
Abstract
Numerous pupils are still unable to convey their thoughts and ideas in order to think more critically about an issue. As a result, individuals require another method of learning for the purpose of enhancing their capabilities. Problem Based Learning is a learning style in which students are required to solve real-world situations. Using a problem-based learning method, this study aims to explain the increasing in students' understanding of fantasy story texts. The study population consisted of 29 students from class VII Bilingual B SMP Al-Azhar Medan. The examination was carried out randomly using a random sampling inspection procedure. This study adopted a quasi-experimental design with one-group pretest and one-group posttest. The pretest is carried out before the problem-based learning model is applied. The results of the pretest will be evaluated as a benchmark for building values and developing arrangements through problem-based learning. The post-test is given after the learning has been completed. The assignment-based written test serves as research instruments. The data was assessed by describing the pre and post test results. The results showed that students achieved an average score of 90.79% in the complete KKM 88 category after using a problem-based learning model with fantasy story text.
References
Al Maliki, I. M., Hidayat, A., & Sutopo, S. (2017). The ability to Solve Student Problems on the Topic of Temperature and Heat through Cognitive Apprenticeship Learning. Jurnal Pendidikan: Teori, Penelitian, Dan Pengembangan, 2(2), 304–308.
Anggraeni, R. D., Sulton, S., & Sulthoni, S. (2019). The Influence of Multimedia Tutorials on Indonesian Language Learning Outcomes. JKTP: Jurnal Kajian Teknologi Pendidikan, 2(2), 96–101.
Arie Anang Setyo, S. P. M. P., Muhammad Fathurahman, S. P. M. P., & Zakiyah Anwar, S. P. I. M. P. (2020). PROBLEM BASED LEARNING MODEL ASSISTED WITH GEOGEBRA SOFTWARE FOR MATHEMATICS COMMUNICATION ABILITY AND SELF CONFIDENCE OF HIGH SCHOOL STUDENTS. YAYASAN BARCODE. https://books.google.co.id/books?id=GFVFEAAAQBAJ
Bassham, G., Irwin, W., Nardone, H., & Wallace, J. M. (2010). Critical thinking: A student's introduction. McGraw-Hill.
Edison, A., & M. Hidayat, M. M. S. R. P. M. (2023). Problem Based Learning Solutions to Improve Learning Achievement. Penerbit P4I. https://books.google.co.id/books?id=iTmoEAAAQBAJ
Eggen, P., & Kauchak, D. (2012). Learning Strategies and Models. Jakarta: Indeks.
Erita, E. (2017). The Effect of Learning Models. Economica: Jurnal Program Studi Pendidikan Ekonomi STKIP PGRI Sumatera Barat, 6(1), 72–86.
Fitri, M., Yuanita, P., & Maimunah, M. (2020). Development of 21st Century Skills Integrated Mathematics Learning Devices through the Application of Problem Based Learning (PBL) Models. Jurnal Gantang, 5(1), 77–85.
Herzon, H. H., Budijanto, B., & Utomo, D. H. (2018). The effect of Problem-Based Learning (PBL) on Critical Thinking Skills. Jurnal Pendidikan: Teori, Penelitian, Dan Pengembangan, 3(1), 42–46.
Johnson, R. T., & Johnson, D. W. (2015). Active learning: Cooperation in the classroom. The Annual Report of Educational Psychology in Japan, 47, 29–30.
Kapitan, Y. J., Harsiati, T., & Basuki, I. A. (2018). development of teaching materials for writing fantasy story texts with character education values in class VII. Jurnal Pendidikan: Teori, Penelitian, Dan Pengembangan, 3(1), 100–106.
Muliawan, J. (2014). Educational Research Methodology. Yogyakarta: Penerbit Gava Media.
Mulyati. (2015). Higher Education requires Indonesian proficiency. Jakarta: Prenadamedia Group.
Nurgiyantoro, B. (2013). Fiction Reviewer Theory. Yogyakarta: Gadjah Mada University Press.
Pamungkas, D. R. (2016). Comparative Study of PBL Learning with Conventional Learning on the Concept of Biodiversity. FKIP UNPAS.
Ramlawati, Y. (2017). The Effect of the PBL (Problem Based Learning) Model on Students' Motivation and Science Learning Outcomes. Jurnal Sainsmat, 6(1), 1–14.
Rizka, B., & Lismalinda. (2021). THE EFFECT OF PROBLEM-BASED LEARNING MODEL ON THE SOCIOLINGUISTICS LEARNING OUTCOMES OF PRIVATE UNIVERSITY STUDENTS IN ACEH. Getsempena English Education Journal, 8(1), 14-25. https://doi.org/10.46244/geej.v8i1.1197
Sanjaya, W. (2015). Learning System Planning and Design. Jakarta?: Kencana.
Sugiyono, D. (2013). Educational research methods with quantitative, qualitative and R&D approaches.
Yulianti, E., & Gunawan, I. (2019). Problem based learning (PBL) learning model: The effect on conceptual understanding and critical thinking. Indonesian Journal of Science and Mathematics Education, 2(3), 399–408.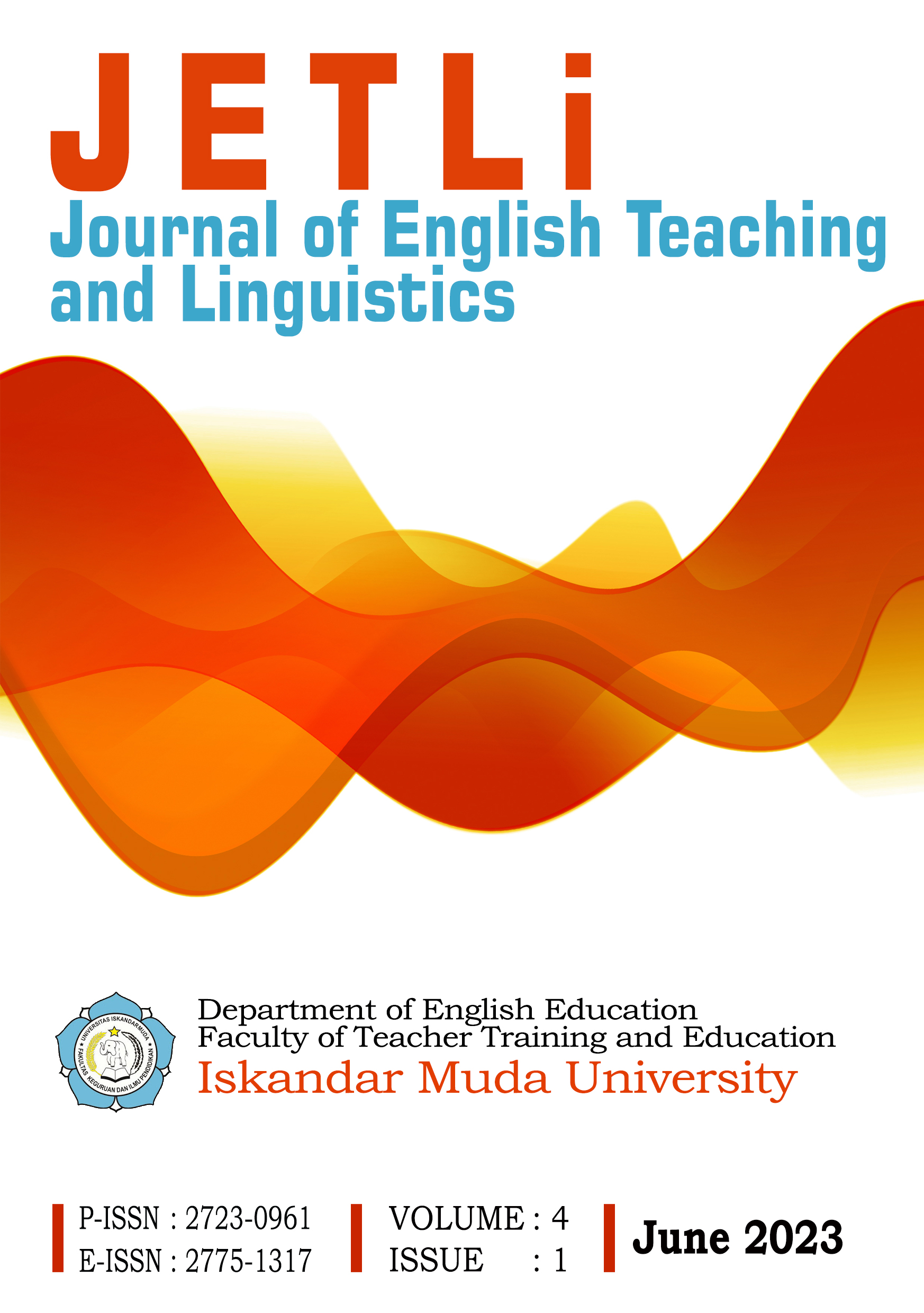 How to Cite
Payana, W. D., & Lismalinda, L. (2023). The Implementation of Problem Based Learning Models to Improve Understanding of Fantasy Story Texts. Journal of English Teaching and Linguistics, 4(1), 21-29. https://doi.org/10.55616/jetli.v4i1.513
This work is licensed under a Creative Commons Attribution 4.0 International License.
Authors retain copyright and grant the journal right of first publication with the work simultaneously licensed under an Attribution 4.0 International (CC BY 4.0) that allows others to share — copy and redistribute the material in any medium or format and adapt — remix, transform, and build upon the material for any purpose, even commercially with an acknowledgment of the work's authorship and initial publication in this journal.