Male Gaze In Charlotte Brontë's Jane Eyre and Sutan Takdir Alisjahbana's Layar Terkembang
Keywords:
Male Gaze, Masculinization of the Viewer, Scopophilia, Victorian literature, Indonesian literature
Abstract
This paper aims to discuss how the female body has been an object for male sexual pleasure in patriarchal culture. Female body is considered as the focus of the male gaze. This research uses a feminist theory by Laura Mulvey that focuses on sexual objectification of women. Data analysis was performed through qualitative descriptive techniques by interpreting the data found in Jane Eyre by Charlotte Brontë and Layar Terkembang by Sutan Takdir Alisjahbana. This paper aims to expose how smart, independent, and strong women still cannot break free from the male gaze. Women see themselves through the eyes of the men. Consciously and unconsciously, women do not only shape their physical appearance but also their ideology based on the male gaze Despite the fact that these novels were written at different times and places, Brontë and Alisjahbana raised the same theme about women empowerment through the main female characters. The result of this study shows that both authors have failed to fully create strong and independent female characters since both of the characters were still confined by the male gaze.
References
Alisjahbana, S. T. (2001). Layar Terkembang. Jakarta: Balai Pustaka.
Bronte?, C. (1999). Jane Eyre. Peterborough, Ont: Broadview Press.
Chrisp, P. (2005). A History of Fashion and Costume: The Victorian Age. New York: Bailey Publishing Associates Ltd
Evans, Mary, and Carolyn W. (2013). Gender: the key concepts. New York: Routledge.
Howard, J. (2000, September 29). Telling the Story of a Victorian Lady, Layer by Layer. The Newtown Bee, pp. A10
Kurniawan, E. (2012). Cantik Itu Luka. Jakarta: Gramedia Pustaka Utama.
Lakoff, R. Tolmach, & Scherr, R. L. (1984). Face value: the politics of beauty. Boston (Mass.): Routledge and Kegan Paul
Lismalinda, L., & Rizka, B. (2021). STRUCTURE AND LEO TOLSTOY'S WORLDVIEWS IN 'ANNA KARENINA' FILM: A STUDY OF GENETIC STRUCTURALISM. Journal of English Teaching and Linguistics, 2(1), 16-22. https://doi.org/10.55616/jetli.v2i1.64
Mulvey, L. (1989). Visual pleasure and narrative cinema. In Visual and other pleasures (pp. 14-26). Palgrave Macmillan, London.
Ramseyer,W. V. L. (2015). Sexual objectification, self-objectification, body appreciation, and quality of the sexual relationship in relation to preventative sexual health behaviors in a sample of emerging adult women (Doctoral dissertation, University of Kansas).
Septiani, N. A., & Lismalinda, L. (2020). READING 'PRESIDENT' POEM BY REMY SYLADO'S WITH POSMODERN PARODY. Journal of English Teaching and Linguistics, 1(1), 40-46. https://doi.org/10.55616/jetli.v1i1.12
Sweeney, C. A. (2009). Gendered Glances: the male gaze (s) in Victorian English Literature. Georgetown University.
Tong, R. P. (2014). Feminist Thought: A More Comprehensive Introduction. 4th ed. Boulder, Colorado: Westview Press.
Udasmoro, W. (2017). Dari Doing ke Undoing Gender: Teori dan Praktik dalam Kajian Feminisme. Yogyakarta: Gadjah Mada University Press.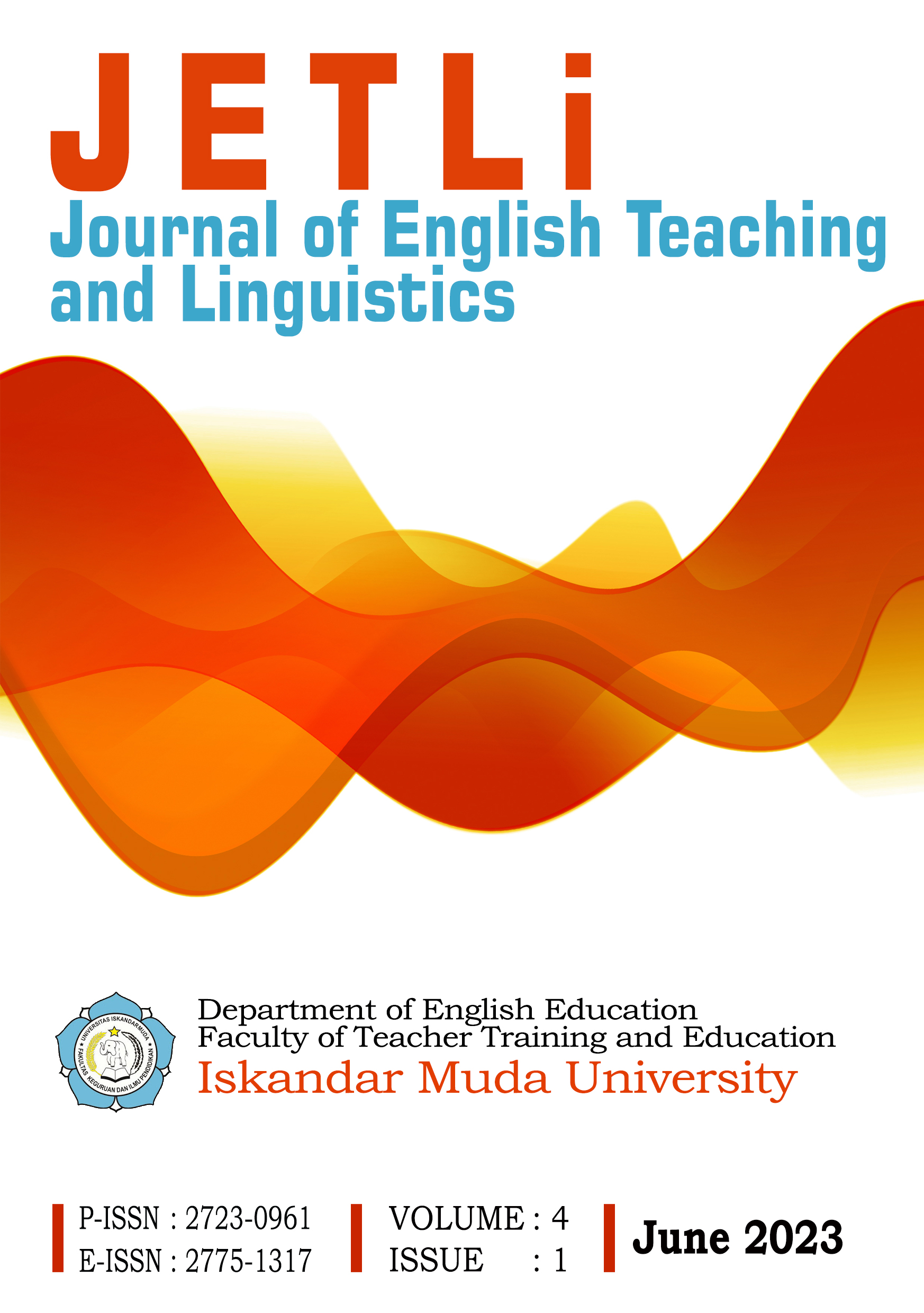 How to Cite
Sar, S., & Rahmadini, N. S. (2023). Male Gaze In Charlotte Brontë's Jane Eyre and Sutan Takdir Alisjahbana's Layar Terkembang. Journal of English Teaching and Linguistics, 4(1), 11-20. https://doi.org/10.55616/jetli.v4i1.510
This work is licensed under a Creative Commons Attribution 4.0 International License.
Authors retain copyright and grant the journal right of first publication with the work simultaneously licensed under an Attribution 4.0 International (CC BY 4.0) that allows others to share — copy and redistribute the material in any medium or format and adapt — remix, transform, and build upon the material for any purpose, even commercially with an acknowledgment of the work's authorship and initial publication in this journal.