Using Writing Process Approach (WPA) to Improve the Eight Grade Students' Ability in Mastering Writing Descriptive Text
An Experimental Study at SMP Negeri 1 Simeulue Barat
Keywords:
writing process approach, writing descriptive text
Abstract
The aim of this study was to find out if there any significant differences between the students are taught descriptive text writing by using WPA and those without. This study used experimental research design. The population of this study was all eight grade students of SMP Negeri 1 Simeulue Barat, and the total population was 32 students. The sample of this study was the students of classes VIIIA and VIIIB. There were divided into two groups: the experimental and control groups. This study also used non random sampling. The data was collected from pre-test and post-test. The t-test analysis technique in this study used the SPSS 18 for windows. The mean of this study of post-test of the experimental group is 74.37, while the control group is 58.12. The writer obtained the results of in the t-count = 4.42, while t-table =2.05. So, the provisions in the different test if the t-count is higher than t-table then difference is real and the alternative hyhothesis (Ha) is accepted and the null hypothesis (Ho) is rejected. Therefore, in this study there was a significant difference in the achievement of writing descriptive text by using WPA. The use of WPA in teaching writing descriptive text is effective to be applied in the context at SMP Negeri 1 Simeulue Barat. Finally, the researchers suggest to teachers that students should use WPA in teaching descriptive text.
References
Amado, H. (2010). Screenwriting: A Strategy for The Improvement of Writing Instructional Practices. Profile: Issues in Teacher Professional Development, 12(2), 153-164. Retrieved from https://revistas.unal.edu.co/index.php/profile/article/view/17689
Avelino, J. (2012). The Process Approach to Writing.
Arikunto, S. (2013). Prosedur Penelitian Suatu Pendekatan Praktik. Jakarta: Rineka Cipta
Junaedi, K. S. B. (2016). Keefektifan Pendekatan Proses Pada Pembelajaran Menulis Teks Eksposisi Siswa Kelas X SMA Negeri 1 Cisaat.
Gebhard, J.G. (2000). Teaching English As A Foreign Or Second Language:A Teacher Self-Development And Methodology Guide. Michigan: The University of Michigan Press.
Kalesu, A. (2005). Implementing The Process Writing Approach to Develop the Writing Ability of The Third Year Students of SMP Negeri 9 Palu. Unpublished Thesis. Malang: State University of Malang.
Miftah, M. Z. (2015). Enhancing Writing Skill Through Writing Process Approach. IAIN Palangka Raya.
Nurudin, (2010). Dasar-Dasar Penulisan. Malang: Umm Press
Oshima, A. & Hogue, A. (2006). Introduction to Academic Writing: Third Edition. USA: Pearson Education Inc.
O'Malley, J. M. & Pierce, L. V. (2006). Authentic Assessment for English Language Learners: Practical Approaches for Teachers. Massachusetts: Addison - Wesley Publishing Company, Inc.
Richards, Jack C,and Renandya, Willy, A. (2002). Methodology In Language Teaching and Anthology of Current Practice. Cambridge: Cambridge University Press.
Raimes, A. (2003). Techniques in Teaching Writing. New York: Cambridge University Press.
Sabrina, G., Rizka, B., & Sariakin, S. (2020). The Implementation of Two Stay Two Stray Technique to Improve the Students' Competence of SMP Negeri 9 Banda Aceh in Mastering Reading Comprehension. JETLi: Journal of English Teaching and Linguistics, 1(2), 74-91. https://doi.org/10.55616/jetli.v1i2.18
Sharpies, M (2009). How We Write: Writing as Creative Design. New York: Routledge.
Scholes. (2008). Writing Skills and Developing Paragraph. New York: Chapman and Hall, inc.
Smalley, R. L., Reutten, M. K. & Rishel, O. (2001). Refining Composition Skills: Rhetoric and Grammar for ESL Students. New York: Macmillan Publishing Company.
Spartt, P., A, Williams, (2005). The Teaching Knowledge Test Course. Cambridge: Cambridge University Press.
Tompkins, G. E. & Hoskisson, K. (2005). Language Arts: Content and Teaching Strategies. New York: Macmillan Publishing Company.
Wibowo,A.B. (2013). Improving Writing Skill by Using Writing Process Approach for Grade X Students Of SMA N 1Kasihan Bantul. Yogyakarta.
Zainurrahman. (2011). Menulis: Dari Teori Hingga Praktik. Bandung: Alfabeta.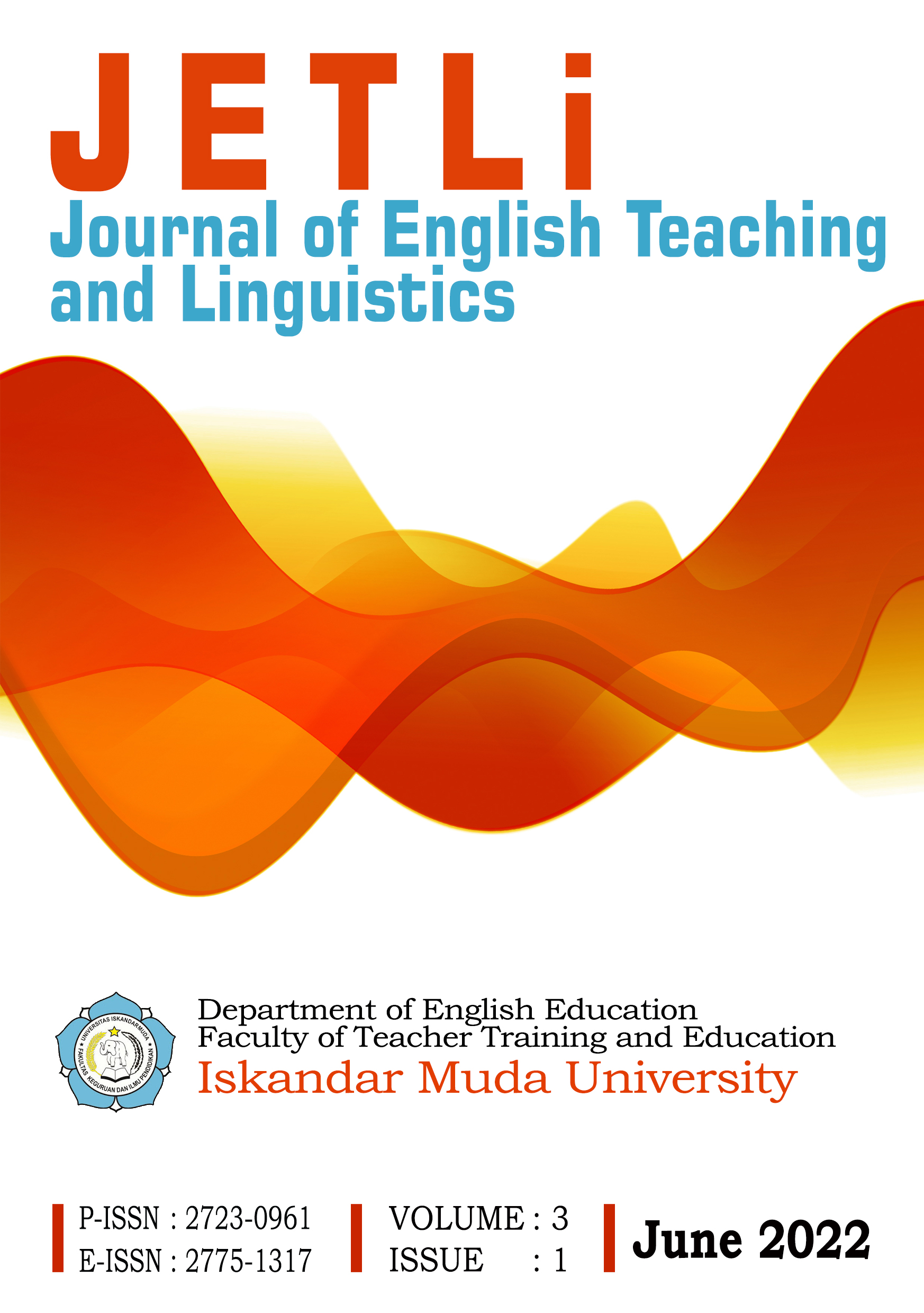 How to Cite
Fitria, N., & Monita, M. . (2022). Using Writing Process Approach (WPA) to Improve the Eight Grade Students' Ability in Mastering Writing Descriptive Text: An Experimental Study at SMP Negeri 1 Simeulue Barat. Journal of English Teaching and Linguistics, 3(1), 10-18. https://doi.org/10.55616/jetli.v3i1.263
This work is licensed under a Creative Commons Attribution 4.0 International License.
Authors retain copyright and grant the journal right of first publication with the work simultaneously licensed under an Attribution 4.0 International (CC BY 4.0) that allows others to share — copy and redistribute the material in any medium or format and adapt — remix, transform, and build upon the material for any purpose, even commercially with an acknowledgment of the work's authorship and initial publication in this journal.