Kewenangan Pengadilan Agama dalam Penyelesaian Sengketa Perbankan Syariah
Abstract
This study aims to determine and understand the authority of the Religious Courts in dispute resolution and the principles of handling sharia banking disputes. This type of research is a qualitative research with a juridical approach. The results of this study indicate that the enactment of Law No. 3 of 2006 concerning amendments to Law No. 7 of 1989 concerning the Religious Courts has provided a legal umbrella for the application of sharia economic disputes in Indonesia which is the authority of the Religious Courts. Settlement of disputes related to Islamic banking economic activities can be resolved in two ways, namely litigation and non-litigation. In addition, with the change in the legislation of the Religious Courts providing an extension of authority to the Religious Courts, this can be seen from the amendments to the Judicial Law which contained two amendments, in which the first amendment was from Law No. 7 of 1989 to Law No. 3 of 2006. There are 42 articles that have been added and changed, and in the second amendment, namely Law No. 7 of 1989 to Law No. 50 of 2009 there are 24 articles that were added and changed.
References
Adi, S. (2002). Apa dan Bagaimana Reformasi. Jakarta: Pustaka Intan.
Aripin, H. J. (2009). Jejak Langkah Peradilan Agama di Indonesia. Prenada Media.
Aripin, J. (2008). Peradilan agama dalam bingkai reformasi hukum di Indonesia. Kencana.
Arto, A. M. (1996). Praktek Perkara Perdata Pada Pengadilan Agama. Pustaka Pelajar.
Bryan A Garner, Black 's Law Dictionary, cet, 8, St. Paul USA: Briyan A garner and Thomson Business, 1307.
Fariani, E., Riyaldi, M. H., & Furda, Y. P. E. (2021). Analisis Faktor Yang Mempengaruhi Minat Masyarakat Menabung Di Bank Syariah Indonesia. Al-Ahkam: Jurnal Syariah dan Peradilan Islam, 1(2), 1-17.
Firdawaty, L. (2011). Analisis Terhadap UU No 3 Tahun 2006 Dan UU No. 50 Tahun 2009 Tentang Kekuasaan Peradilan Agama. Al-'Adalah, 10(2), 213-220.
Ghafur, A. A. (2007). Peradilan Agama di Indonesia Pasca Undang?undang
Nomor 3 Tahun 2006 (Sejarah, Kedudukan, dan Kewenangan).
Hasbi, H. (2010). Kompetensi Peradilan Agama dalam Penyelesaian Sengketa Ekonomi Syariah edisi revisi. Jakarta.
Mardani, Hukum Acara Perdata Peradilan Agama dan Mahkamah Syariah Jakarta: Sinar Gravika, 2009.
Mujahidin, A. (2008). Pembaharuan hukum acara perdata peradilan agama dan mahkamah syar'iyah di indonesia. Jakarta: IKAHI.
Salim, P., & Salim, Y. (2002). Kamus Bahasa Indonesia Kontemporer (Jakarta.
Sudarsono, Kamus Hukum, cet, 6, Jakarta: PT Rineka Cipta, 399.
Theodore L.Becker, Comprative Judicial Politics. The Political Funtioning of Courts, London: Oxford University Press, 1978
Zuhriah, E. (2014). Peradilan agama Indonesia: sejarah, konsep, dan praktik di pengadilan agama. Setara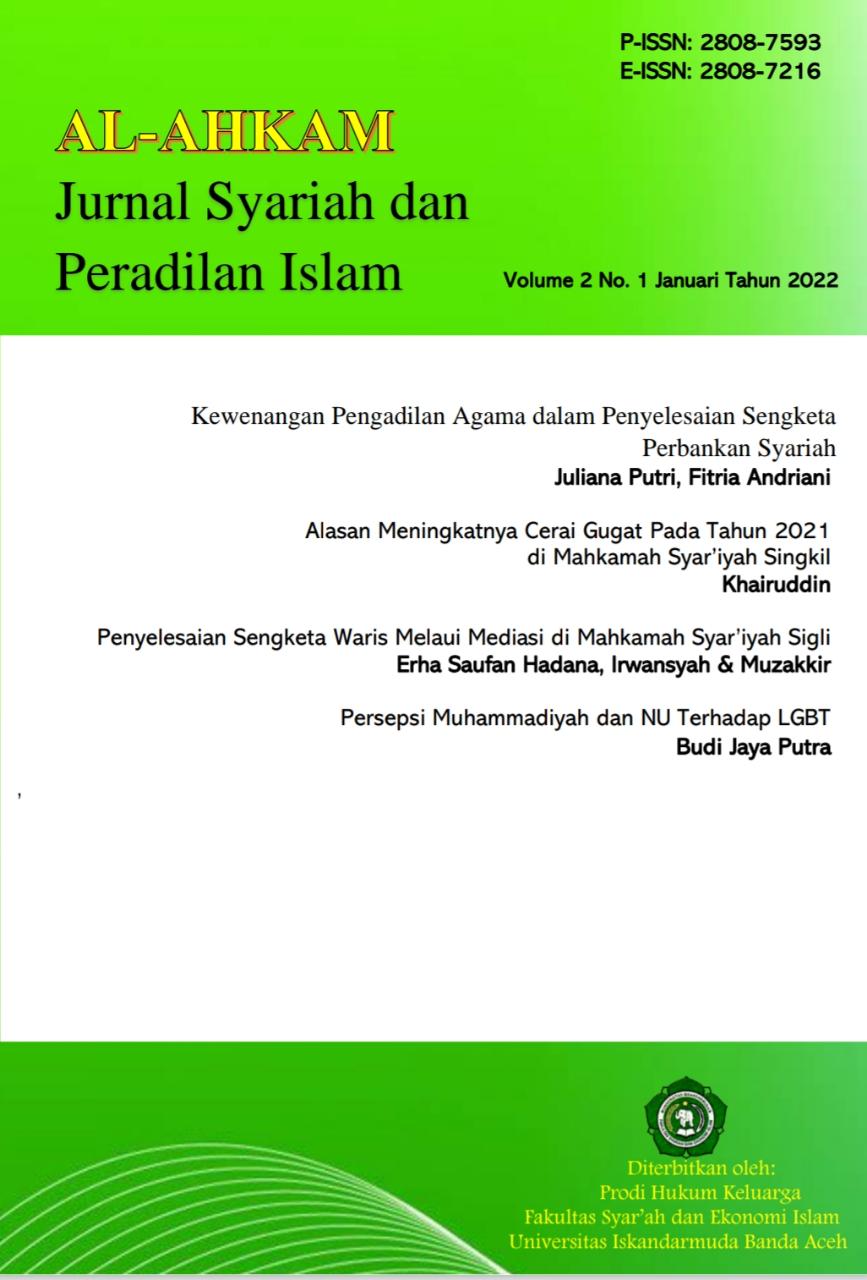 How to Cite
Putri, J. ., & Andriani, F. (2022). Kewenangan Pengadilan Agama dalam Penyelesaian Sengketa Perbankan Syariah. Al-Ahkam: Jurnal Syariah Dan Peradilan Islam, 2(1), 1-14. Retrieved from https://ejournal.unida-aceh.ac.id/index.php/jspi/article/view/203