The Implementation of STAD in Improving Students' Reading Skill
Keywords:
Reading comprehension, STAD Technique, Class Action Research
Abstract
In the process of teaching, teachers must employ various strategies to ensure that students grasp and understand the subjects they are learning. One effective strategy for teaching reading is the Student Team Achievement Division (STAD) approach. The objective of this study was to investigate the impact of the STAD technique on improving the reading comprehension scores of students at SMK Kesehatan Assyifa School in Banda Aceh. The sample for this research comprised of twenty-six second-semester grade XI students. The research involved conducting pre-tests and post-tests. The pretest was administered before implementing the STAD strategy and the posttest was conducted after four sessions of STAD treatment. The reading tests encompassed five aspects that aid in enhancing students' reading comprehension; identifying topic sentences, main ideas, details, inferences, synonyms/antonyms, and conclusions. The findings of the study revealed that students improved their reading comprehension through the STAD technique by engaging in discussions with their peers about the issues presented in the reading texts. A comparison of the pretest and posttest results demonstrated that the average score in the posttest was higher than in the pretest. Specifically, the students achieved an average score of 80.19% in the posttest, meeting the criteria for completing the minimum competency standard (KKM) set at 73%. Moreover, the students collaborated in heterogeneous teams to maximize their improvement in each cycle, which fostered a competitive atmosphere in the classroom and heightened students' motivation to comprehend the reading texts.
References
Duffy, G. G. (2009). Explaining Reading: A Resource for Teaching Concepts, Skills, and Strategies. New York: The Guilford Press.
Durkin, D. (1993). Teaching them to read (6th Ed.). Boston: Allyn & Bacon.
Fahas, R., & Husaini, R. (2022). Improving Reading Skill of Students in Eighth Grade Throught Preview, Read, State And Test Method. Journal of English Teaching and Linguistics, 3(2), 60-67. https://doi.org/10.55616/jetli.v3i2.145
Fitri, S. (2013). The Implementation of Cooperative Learning: Student Teams-Achievement Divisions Technique In Teaching Reading Comprehension. Journal of English and Education. 1(2), 82-89.
Hashemian, M., Jalilifar, A., & Shariatipour, P. (2010). The Effect of Cooperative Learning Techniques on College Students' Reading Comprehension Achievement. Ankara: Journal of Faculty of Letters and Humanities, 5(1).
Hidayat, F. (2018). Teaching Reading Comprehension through Anticipation Guides to the Eighth Grade Students of the State Junior High School 17 of Palembang. ELTE Journal (Journal of English Language Teaching & Education). 6(1), 83-94. https://doi.org/10.31851/elte.v6i1.1557
Komiyama, R. (2009). CAR: A Means for Motivating Students to Read. English Teaching Forum, 3(1): 32-37.
Marantika, J. (2013). The R.E.A.P Strategy experimental group for Teaching Reading a Narrative Text to junior High School Students. Journal of English Language Teaching, 1(2). https://doi.org/10.24036/jelt.v1i2.1172
McNiff, J. (1992). Action Research: Principles and Practice. London: Routledge.
Nugroho, S., & Shodikin, A. (2018). Keefektifan Pembelajaran Student Teams Achievement Division (STAD) Berbantuan Komik [Learning Effectiveness of Student Teams Achievement Division (STAD) Comic Asisted]. Jurnal Matematika Dan Pendidikan Matematika, 3(1), 22–32. https://doi.org/10.26594/jmpm.v3i1.1067
Patel, M. F., & Jain, M.P. (2008). English Language Teaching: Methods, Tools, and Technique. Jaipur: Sunrise Publisher and Distribution.
Rahimi, S. (2015). The Effects of the Student Team Achievement Division (STAD) on Improving EFL Learners' Reading Comprehension. American International Journal of Research in Humanities, Arts and Social Sciences. ISSN (Print): 2328-3734, ISSN (Online): 2328-3696. Available online at http://www.iasir.net
Ruhil, A. S., Supriadi, B., Nuraini, L., & Syamsuri, S. (2020). Pengaruh model pembelajaran kooperatif tipe STAD terhadap hasil belajar fisika di SMK Negeri 5 Jember. Saintifika, 22(1), 30–38. https://doi.org/10.19184/saintifika.v22i1.15354
Sabrina, G., Rizka, B., & Sariakin, S. (2020). THE IMPLEMENTATION OF TWO STAY TWO STRAY TECHNIQUE TO IMPROVE THE STUDENTS' COMPETENCE OF SMP NEGERI 9 BANDA ACEH IN MASTERING READING COMPREHENSION. Journal of English Teaching and Linguistics, 1(2), 74-91. https://doi.org/10.55616/jetli.v1i2.18
Slavin, R. E. (1991). Student Team Learning: A Practical Guide to Cooperative Learning. Washington, D.C.: National Education Association of the United States.
Slavin, R. E. (1995). Cooperative learning: Theory, research, and practice. Boston: Allyn & Bacon.
Van den Broek, P., & Espin, C. A. (2012). Connecting cognitive theory and assessment: Measuring individual differences in reading comprehension. School Psychology Review, 41(3), 315-325.
Yunita, W. (2016). Improving Students' Speaking Skill by Using STAD (Student Teams Achievement Divisons). AL-ISHLAH, 8(1), 136–153. https://doi.org/10.35445/alishlah.v8i1.35
Zare, P. & Nooreen, N. (2011). The Relationship Between Language Learning Strategy experimental group Use and Reading Comprehension Achievement Among Iranian Undergraduate EFL Learners. World Applied Sciences Journal. 13(8): 1870-1877.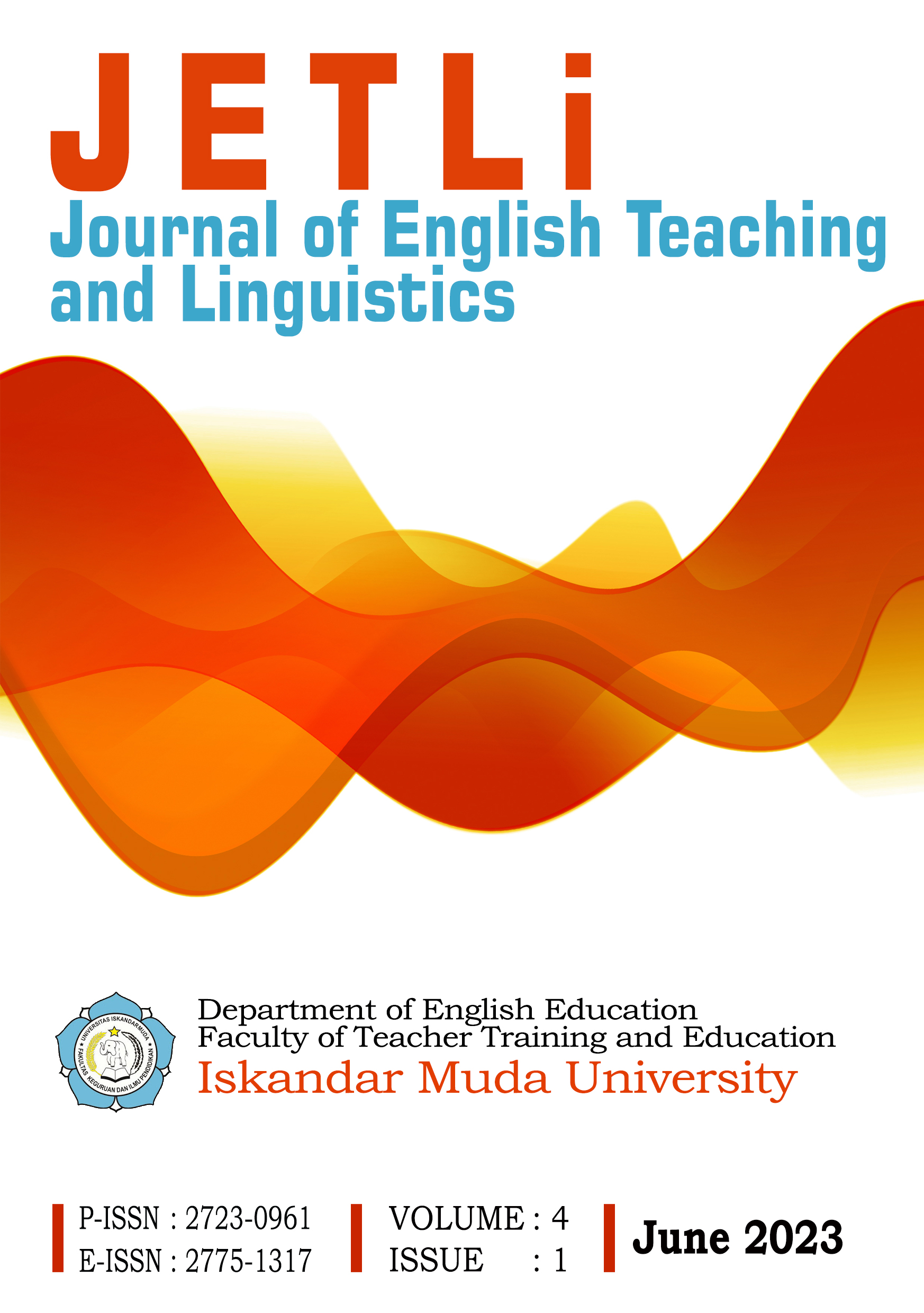 How to Cite
Yanti, N., & Helmi, R. (2023). The Implementation of STAD in Improving Students' Reading Skill. Journal of English Teaching and Linguistics, 4(1), 41-48. https://doi.org/10.55616/jetli.v4i1.524
This work is licensed under a Creative Commons Attribution 4.0 International License.
Authors retain copyright and grant the journal right of first publication with the work simultaneously licensed under an Attribution 4.0 International (CC BY 4.0) that allows others to share — copy and redistribute the material in any medium or format and adapt — remix, transform, and build upon the material for any purpose, even commercially with an acknowledgment of the work's authorship and initial publication in this journal.