Variation in Word Formation and Lexical Choice: A Stylistic Translation of "Asahan Dalam Angka 2015" Text
Keywords:
variation, word formation, lexical choice, stylistic translation, text
Abstract
In case of recent global and social changes, academic fields under language and communication pay their interests in various forms of translation, for instance, official text. Translating official text very often meets a gap, that is, inappropriate meanings in the target text. Therefore, the aims of the study are to identify the stylistic approaches that contribute to the translation of the ST into the TT in terms of stylistic qualified translation and to identify the translation accepted by the native speakers of TT. Equivalence in meaning which is a central meaning-focused in the translation work has not been done well by the translator. The farther its equivalence is the farther the gap is. The gap, however, leads to a misunderstanding of the text. Misunderstanding of the text will either spoil the ideas or loosen the information of the source text. Word Formation Variation (WFV) 19 data (14.61 %), and Lexical Choice Variation (LCV) 28 data (21.53%).
References
Boase-Beier, J. (2006). Stylistic Approaches to Translation. Manchester: St Jerome Publishing.
Boase-Beier, J. (2011b). A Critical Introduction to Translation Studies. London: Continuum.
Bogdan, R. (2007). Qualitative Research for Education: An Introduction to Theories and Methods. Syracuse University, Pearson Publisher.
Bungin, B. (2001). Metodologi Penelitian Kualitatif: Aktualisasi Metodologis kearah Ragam Varian Kontemporer. Jakarta: Rajawali Press.
Catford, J. C. (1965). A Linguistic Theory of Translation. Oxford: Oxford University Press.
Gaudec, D. (2007). Translation as a Profession. New York: John Benjamins Publishing Company.
Gutt, E. A. (2000). Translation and Relevance (second ed). Manchester: St. Jerome Publishing.
Hatim, B. & Munday, J. (2004). Translation an Advanced Resource Book. London: Routledge.
Hidayati. T. (2015). Asahan Dalam Angka Badan Pusat Statistik Kabupaten Asahan Kisaran BPS.
Labov, W. (1972). Principle of Linguistic Changes. United Kingdom, Willey- Blackwell.
Larson. (1984). Meaning Based Translation: A Guide to Cross-language Equivalence.
Leech, G. & M. Short (2007). Style in Fiction: A Linguistic Introduction to English Fictional Prose. London: Pearson.
Mc Menamin, G. (2002). Forensic Linguistics: Advances in Forensic Stylistics. New York: CRC Press.
Miles, N. B., A. M. Huberman, & J. Saldana. (2014). Qualitative Data Analysis: A Method Source Book. USA: Sage Publication
Munday, J. (2009a). Style and Ideology in Translation. London: Routledge.
Munday, J. (2009b). The Routledge Companion to Translation Studies. London: Routledge.
Newmark, P. (1991). About the Translation University of California, Multilingual Matters.
Nida, E. A., & C.H. Taber. (1976). Language and Translation. California: Stanford University.
O'Grady, W, & Archibald, J. (2008). An Introduction to Contemporary Linguistic Analysis. Canada: Amazon Publication.
Ovale. (1998). Translation Studies. London: Routledge.
Pinchuck, I. (1977). Scientific and Technical Translation. Andre Deutsch.
Wales, K. (2001). A Dictionary of Stylistics. London: Longman.
Zakkir, M. (2009). The Theories of Translation. USA: Zainurrahman World Press.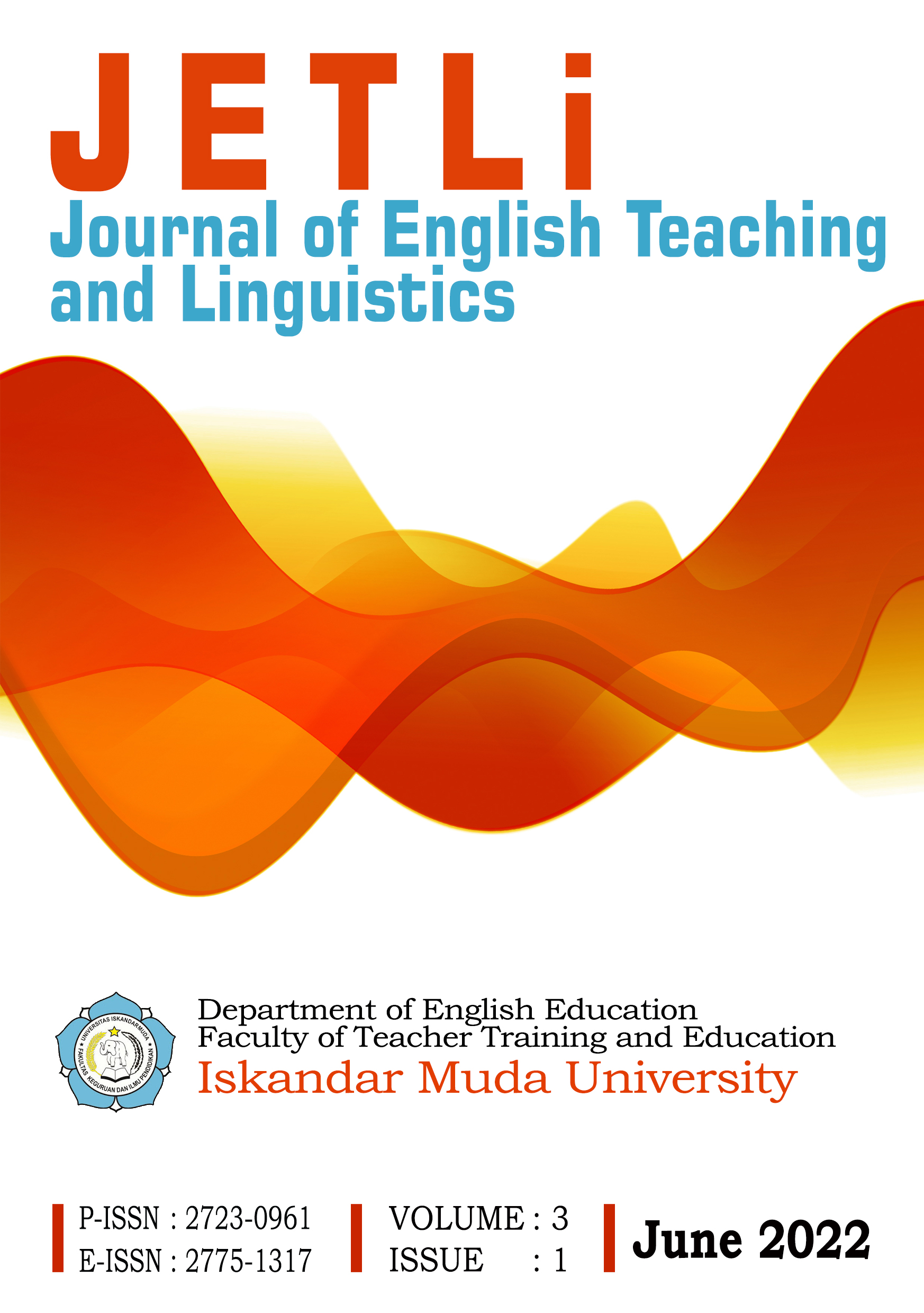 How to Cite
Marpaung, D. A., Rizka, B., & Ezir, E. (2022). Variation in Word Formation and Lexical Choice: A Stylistic Translation of "Asahan Dalam Angka 2015" Text. Journal of English Teaching and Linguistics, 3(1), 19-27. https://doi.org/10.55616/jetli.v3i1.231
This work is licensed under a Creative Commons Attribution 4.0 International License.
Authors retain copyright and grant the journal right of first publication with the work simultaneously licensed under an Attribution 4.0 International (CC BY 4.0) that allows others to share — copy and redistribute the material in any medium or format and adapt — remix, transform, and build upon the material for any purpose, even commercially with an acknowledgment of the work's authorship and initial publication in this journal.