PENINGKATAN KEMAMPUAN PEMECAHAN MASALAH MATEMATIS SISWAMELALUI PENERAPAN PENDEKATAN METAKOGNITIF
Keywords:
Metacognitive Approach, Mathematical Problem Solving Ability.
Abstract
The purpose of this study was to determine the improvement of problem solving skills by applying a metacognitive approach. This research method uses a quasi-experimental research design, with a pre-test post-test control group design. The research population was all students of class VIII, sampling using random sampling, so that class VIII.I was chosen as the experimental class, and class VIII.2 control class. Data was collected through pretest and posttest. Data processing using t test. the results of data processing obtained the value of t count = 9.98. with (dk) = 64, significant level = 0.05 and the table obtained t((0.95)(64))=1.66 meaning t count > t_table. Based on the hypothesis test, it was obtained that the average final test score of the experimental class students (VIII.1) was higher than the control class average (VIII.2). Thus the mathematical problem-solving ability of students who use a metacognitive approach is better than the problem-solving ability to use a conventional approach.
References
Fasha, A., Johar, R., & Ikhsan, M. 2018. "Peningkatan Kemampuan Pemecahan Masalah dan Berpikir Kritis Matematis Siswa melalui Pendekatan Metakognitif". Jurnal Didaktik Matematika, 5,hlm 52–62.
In'am, A. 2018. Menguak Penyelesaian Masalah Matematika. Malang: AM Publishing.
Inayah, S. 2018. "Peningkatan Kemampuan Pemecahan Masalah dan Representasi Multipel Matematis dengan Menggunakan Model Pembelajaran Kuantum". KALAMATIKA Jurnal Pendidikan Matematika, 3(1),hlm. 1–16.
Murni, A. 2010. Pembelajaran Matematika dengan Pendekatan Metakognitif Berbasis Masalah Kontekstual. Seminar Nasional Matematika dan Pendidikan Matematika Yogyakarta, 27 November 2010.
Nanang, N. 2012. "Meningkatkan Kemampuan Siswa Dalam Pemecahan Masalah Matematik Melalui Pendekatan Metakognitif". Mosharafa: Jurnal Pendidikan Matematika, 1(1),hlm. 1–8.
Nurasyiyah, D. A. 2014. "Pendekatan Metakognitif dalam Pembelajaran Matematika Untuk Pencapaian Kemampuan Koneksi dan Pemecahan Masalah Matematik Siswa SMA". Jurnal Ilmiah Matematika dan Pendidikan Matematika, 6,hlm. 115–125.
Susanto, A. 2013. Teori Belajar dan Pembelajaran di Sekolah Dasar, Jakarta: PT Kharisma Putra Utama.
Usman. 2014. "Aktivitas Metakognisi Mahasiswa Calon Guru Matematika dalam Pemecahan Masalah Terbuka". Jurnal Didaktik Matematika, 1(2), hlm. 21–29.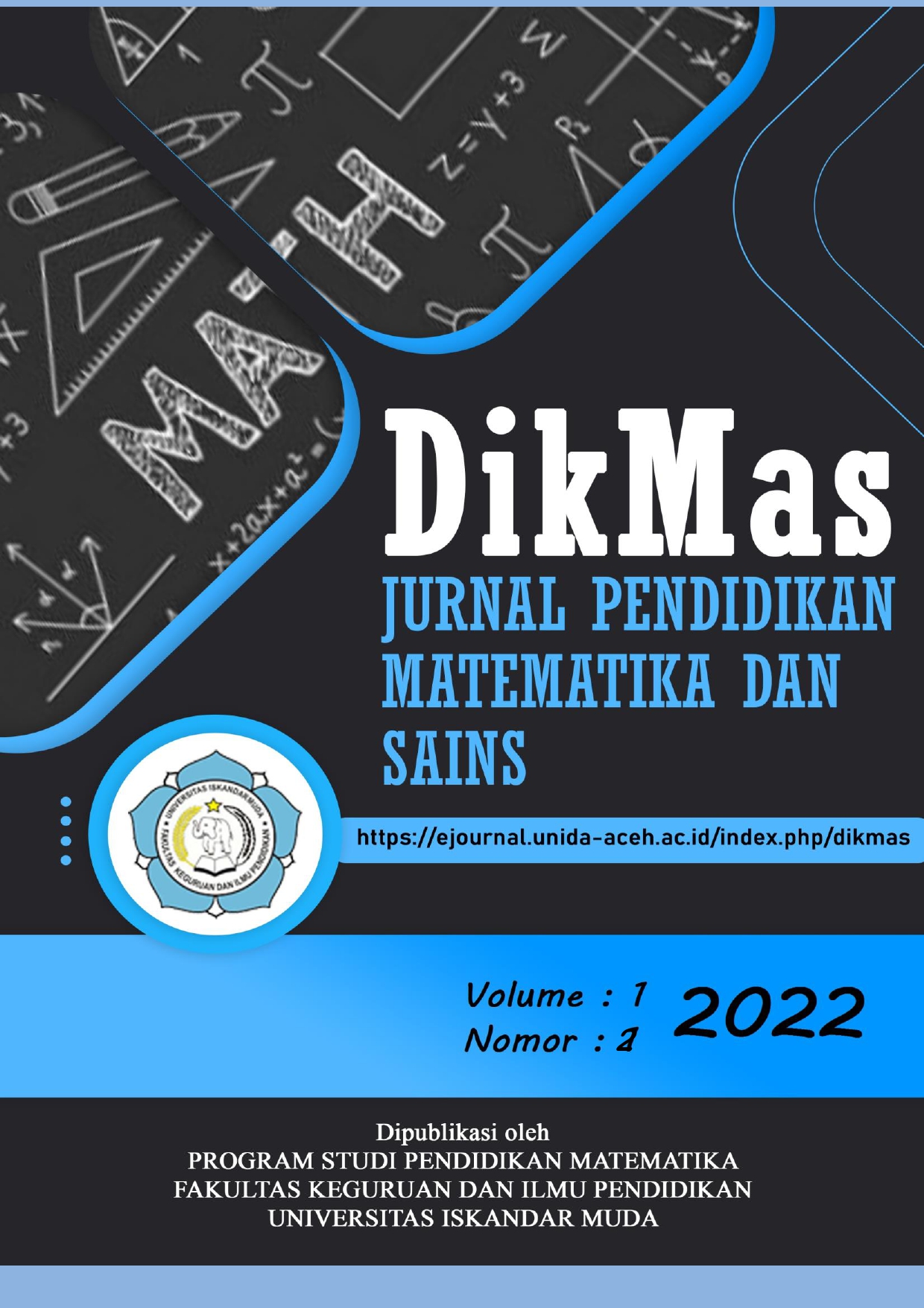 How to Cite
Khairina, Hafriani, & Aiyub Azhari. (2022). PENINGKATAN KEMAMPUAN PEMECAHAN MASALAH MATEMATIS SISWAMELALUI PENERAPAN PENDEKATAN METAKOGNITIF. Jurnal Pendidikan Matematika Dan Sains, 1(2), 10-20. Retrieved from https://ejournal.unida-aceh.ac.id/index.php/dikmas/article/view/331