FUNGSI PENGAWASAN INSPEKTORAT DAERAH ATAS PENYELENGGARAAN PEMERINTAHAN DAERAH DI KABUPATEN ACEH JAYA
(Studi Implementasi kebijakan Peraturan Pemerintah Nomor 20 Tahun 2001 Tentang Pembinaan dan Pengawasan atas Penyelenggaraan Pemerintahan Daerah)
Keywords:
Supervision of Inspectorate
Abstract
As in the role of Supervision carried out by the Implementation of Supervision of the Regional Inspectorate on the implementation of Government in Aceh Jaya District, in the process of implementing a policy in implementation as Government Regulation Number 20 of 2001 concerning the guidance and supervision over the implementation of Regional Government where the supervision must be in accordance with What is expected by all components of Aceh Jaya District Government and the community in an inspectorate supervision in Aceh Jaya Regency, where in the implementation of the role of the Government of Aceh Jaya District is required in the implementation in the field, as in the process, in need of a regulation that is in the Government in The supervisory function of the Inspectorate on the implementation of the government in Aceh Jaya District, as for the formulation of the problem in this study are (1) How the Inspectorate Supervision Function over the Implementation of Local Government in Aceh Jaya District (2) What actors are supporting and inhibiting the function of Supervision of Inspectorate on Government Implementation in Aceh Jaya Regency, with the objectives of research (1) To Analyze the Inspectorate Supervision Function on the Implementation of Aceh Jaya Regency Government, (2) To Know Supporting Factors and Inhibitors of Inspectorate Inspection Function On the Implementation of Local Government in Aceh Jaya Regency, using qualitative descriptive method in analyzing data, data obtained through interviews and data collection from research informants, and conclusion. As in the process of Observation and Documentation as well as interviews, in the Inspectorate function it is important to improve supervision in Aceh Jaya Regency Government as both Budget Supervision and Financial Auditor in Aceh Jaya District Government, where the role of Inspectorate Supervision in Monitoring Policy is very important. By then it can be concluded that the ability of Inpektorat in Better Supervision will get a better effect as well, though that does not mean there are no obstacles in implementing supervision Inspectorate in Aceh Jaya District.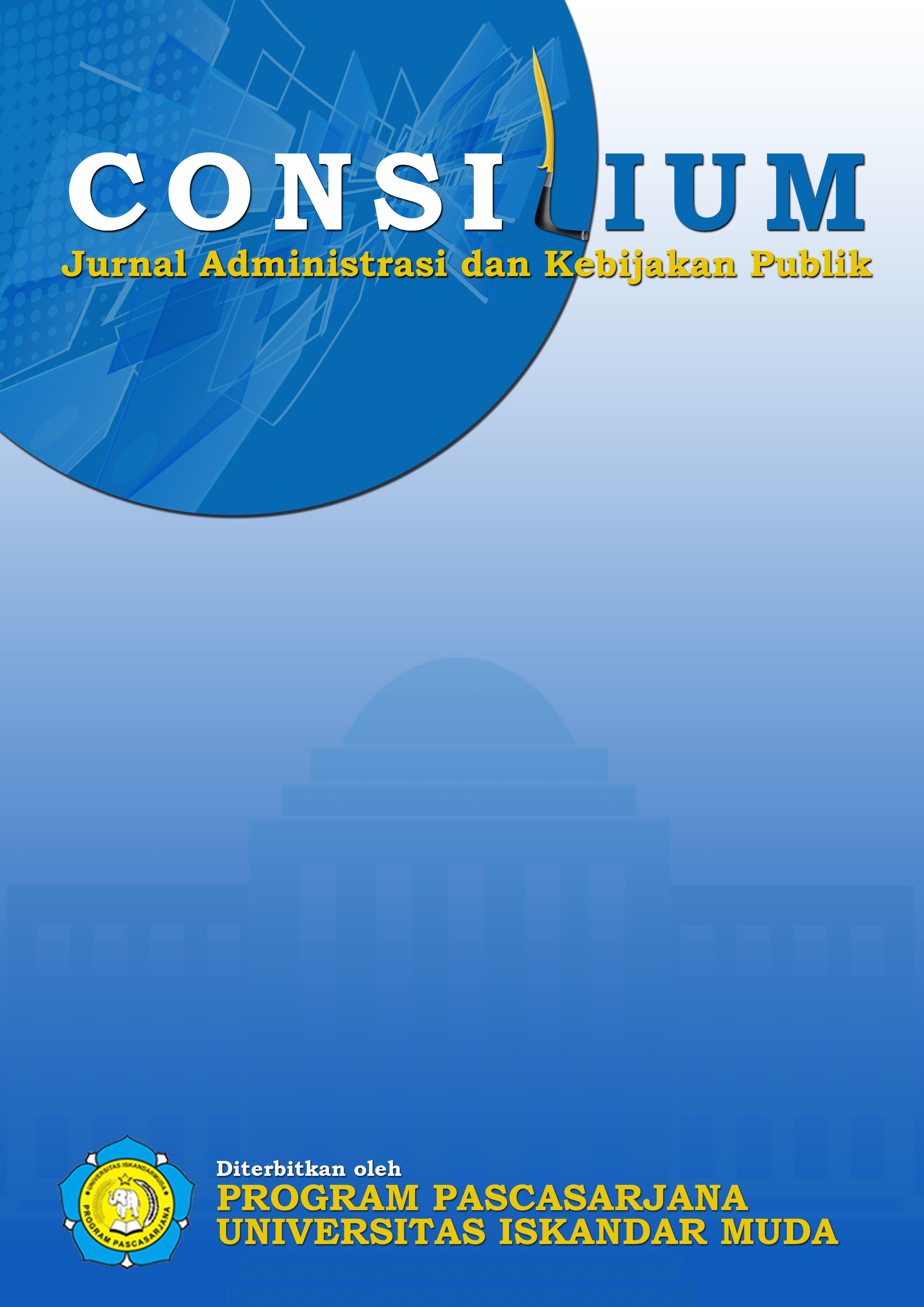 How to Cite
Mashuri, M., Armiwal, A., & Ismail, I. (2022). FUNGSI PENGAWASAN INSPEKTORAT DAERAH ATAS PENYELENGGARAAN PEMERINTAHAN DAERAH DI KABUPATEN ACEH JAYA : (Studi Implementasi kebijakan Peraturan Pemerintah Nomor 20 Tahun 2001 Tentang Pembinaan dan Pengawasan atas Penyelenggaraan Pemerintahan Daerah). CONSILIUM: Jurnal Adminitrasi Dan Kebijakan Publik, 1(2), 227-239. https://doi.org/10.55616/consilium.v1i2.75
Copyright (c) 2022 Jia
This work is licensed under a Creative Commons Attribution 4.0 International License.